Meet Stalker Theatre // Mountain
Stalker Theatre are presenting Mountain at Festival Central during Horizon 2019. We chat with David Clarkson, the Director of Stalker Theatre about inspiration and creation.. 
Who are you and what do you create?
Stalker Theatre is one of Australia's leading physical theatre companies, celebrating over two decades of outstanding achievement in the production of innovative, inter-disciplinary, physical and visual theatre. Founded in 1989, it celebrates three decades of outstanding achievement in the production of innovative, inter-disciplinary, physical and visual theatre.
Stalker makes high quality contemporary physical theatre in Australia across a range of cultural, social and political contexts, regions and nations, and delivers its work to extraordinarily diverse audiences. Its striking physical and visual productions communicate powerfully and imaginatively far beyond the constraints of traditional theatrical contexts. Its challenging new approach to physical performance draws on contemporary dance, new circus, martial arts, innovative approaches to dramaturgy, and inter-disciplinary and inter-cultural practices and processes. Over the last seven years Stalker has specialised in integrating interactive digital technology into its live performances.
What materials and techniques do you use?
Stalker is primarily a physical theatre company working with digital technology to create immersive spectacle. More recently we have been expanding that to have play spaces that the audience can participate in. Our physical theatre work draws from aerial work, dance and theatre.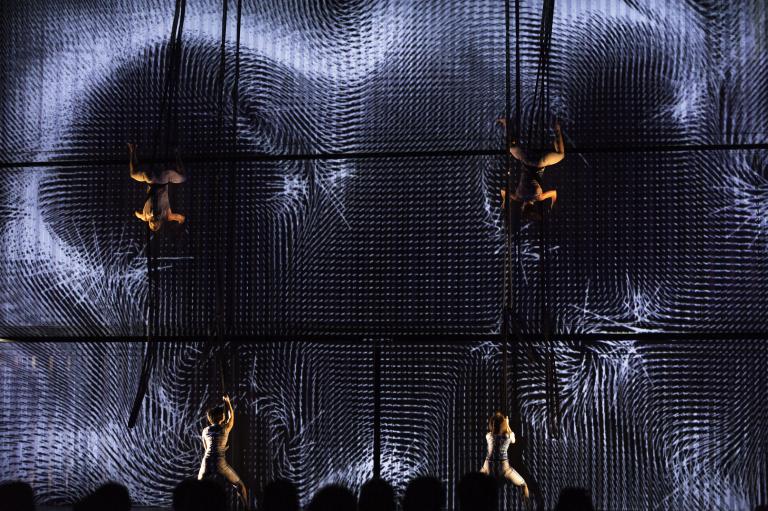 What kind of inspirations go into your work?
I often pick a thematic. Something that is important to me, and hopefully important to the audience as well. For Mountain we drew inspiration from contrasting the natural world of the Australian Bush with digital technology. Where exactly is the human race going with its ever increasing quest to digitise itself!
In what space do you like to create most?
Stalkers work is often outdoors, or in public spaces. I enjoy brining my work out into the public eye. Not shut away in a theatre. But I also make indoor works!
What has been your favourite or most important work to date?
My favorite work is always the next work I am about to make! My next works will be using 3D digital technology. My all time favourites…. too many to mention….. Four Riders….. Red…. MirrorMirror…..I LOVED doing an extended version of Mountain in Bogota last year. Frameshift in Poland last year was spectacular as well. Dot and the Kangaroo was fun to make as well.
Be sure to check out Stalker Theatre's Mountain during opening weekend of Horizon Festival; 23-25th August, 6:30pm & 8pm at Festival Central, Maroochydore City Centre.